Alumni
The career prospects for graduates of the existing Master's Program are beneficial, and the follow-up employments prove the multiplicative effect of our program.
Alumni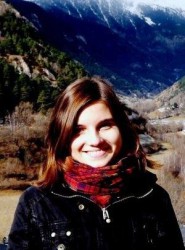 Olga Melnyk
Kyiv-Mohyla Academy , Graduation Year: 2011
Als Bachelorstudentin studierte ich Geschichte an der Kiewer Mohyla-Akademie. Nach dem Abschluss entschied ich mich für den Master mein Hauptfach zugunsten der Politikwissenschaft zu wechseln. Für mich war es wichtig an meiner Heimatuniversität zu bleiben, eine solide Ausbildung zu bekommen und soweit wie möglich meine Fremdsprachkenntnisse zu verbessern. Angesichts dessen hat der DSG eine ideale Option für mich geboten. Nur dieser Studiengang bietet ein solches Spektrum an interessanten Seminaren in Politikwissenschaft, die von deutschen Professoren sowie von den besten ukrainischen Lehrkräften unterrichtet werden. Der DSG bietet eine qualitative europäische Ausbildung, welche man nur selten in der Ukraine findet kann. Das waren für mich die Gründe genau diesen und keinen andere Studiengang zu wählen. Insgesamt bin ich völlig zufrieden mit der Wahl und habe meine Masterarbeit zum Thema "Das Ukrainebild in deutscher Presse" verfasst.