General Info
Our cooperation project's core activity is the 2-year Master's Programme in Political Science with a Specialisation on German and European Studies. The master's programme is based on the cooperation between the Political Science Departments of National University of Kyiv Mohyla Academy (NaUKMA) and Friedrich-Schiller-University Jena (FSU).
Funding is provided by the German Academic Exchange Service (DAAD). In this social science master programme students are trained in political science, law and economics with a strong empiric focus on Germany and the EU. We are offering a double diploma- and a certificate program with the majority of lectures and courses taught in German and English.
Study Curriculum

Political Science Seminars, among others, include:
German Political System
German Political History
German Foreign Policy
History of German Political Thought
German Party System in Comparison
European Studies seminars, among others, include:
History of European Integration
Political System of the European Union
Foreign Policy of the European Union
Internal Policies of the European Union
Enlargement of the European Union and European Neighbourhood Policy
The Core Competences Module includes German language instruction as well as a methodological seminar.
The Transdisciplinary Module includes a seminar to be self-selected as well as English language instruction.
Study Semester in Jena & Diplomas
The programme provides for two study routes:
All students study together in the first year according to the curriculum above.
In the second study year, students who satisfy German language demands (TestDAF 4-4-4-4 by the end of the first study year) and have generally good written and participation grades are invited to study one semester in Jena on a DAAD scholarship. At least six spots are available on this route.
In Jena, students visit further European Studies, Political Science and methodological courses and begin writing their master's thesis with a German supervisor. The process is continued after their return to Kyiv with a consulting Ukrainian supervisor.
In the end, these students receive a joint master's degree of Jena University and Kyiv Mohyla Academy.
All other students continue their studies in the second year according to the regular M.A. "European Studies" track at Kyiv Mohyla Academy. They write their thesis with a Ukrainian supervisor or the DAAD Lecturer and receive a master's degree from Kyiv Mohyla Academy as well as an official document from Jena University, certifying additional language and political science courses in German.
Career Prospects
With their excellent language skills as well as deep knowledge of politics and society in Germany and Europe, our alumni work in international organisations, journalism, NGOs, academia, trade chambers or German political party foundations. Find some of their stories at http://www.des-kyiv.org/graduates/.
Informational Materials
Here is a selection of info material covering all aspects of the Master's Programme.
The updated brochure of the programme is available for download as a PDF.
The poster of the programme can be downloaded as a PDF (Din A4).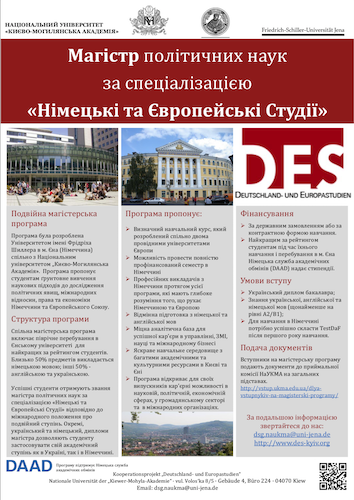 The updated PowerPoint presentation can be downloaded as a PDF.