Випускники
The career prospects for graduates of the existing Master's Program are beneficial, and the follow-up employments prove the multiplicative effect of our program.
Випускники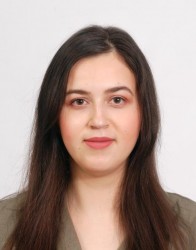 Anastasiia Krasnovyd
Kyiv Mohyla Acdemy, Роки випуску: 2020
I would like to share herewith my experience that I received thanks to a captivating program. This was introduced to us by our lecturer at the university. Since I used to study English philology, European politics remained and still remains the focus of my interest.
The program "German and European Studies" is a well-done combination of theory and practice. The organizers often invite speakers from different organizations and authorities so that the participants can use their knowledge practically, exchange experiences, and deepen their knowledge. Moreover, the training are conducted in Ukrainian, German, and English, which expands the job opportunities in the market. The professors provide great support in orientation not only in literature but also in life. During my studies at Friedrich Schiller University in Jena, we had access to one of the best libraries, where everyone can find a treasure for themselves.
But the best of all are definitely the people we met along the way. We are still in contact with many of them today.
From the bottom of my heart, I thank everyone for this wonderful opportunity not only to receive a double diploma and knowledge but also to discover new friends for myself in the world!